The Gym
We have full time professional fighters representing our club and our gym is fitted out in a manner that reflects this.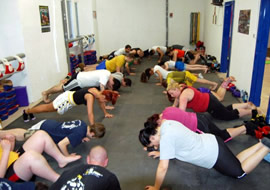 We have a full selection of pads, shields, focus mits, belly protectors, head guards, shin guards, boxing gloves and skipping ropes for your use.
We also have a wide selection of different types of punch, kick and kneeing bags as well as a professional boxing ring.
We have a good selection of free weights, kettle bells and other assorted instruments of torture, eh I mean fitness equipment for your enjoyment including battle ropes, tyres, plyometric training equipment as well as strength and conditioning equipment.
The gym has dedicated male and female changing rooms, social area, and chill area and lots of outdoor space that we utilise in our training sessions (Weather permitting).
We stock a selection of Thai Boxing equipment and clothing including, shorts, gloves, gum shields and groin guards as well as a selection of club branded goods such as; t-shirts, hoodies, shorts, jogging bottoms and hats. We also sell bottles of water and isotonic drinks to help you through the training sessions.