Coaching Staff
We have a large coaching team, each with their own energies, skills sets and approaches but all with the same great attitude.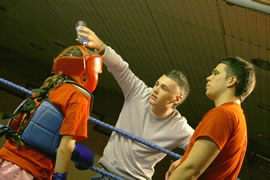 We have a dedicated team of coaches for the fighters as well as having a large number of coaches for the main class.
We need a large number of coaches and instructors due to the large stable of fighters we have and also because a lot of our instructors are current fighters there coaching duties are taken on by other members of the team to allow the fighter to concentrate on training like a champion.
We have specialist coaches for every aspect of training Thai Boxing, including pad men that will leave you drenched in sweat but with a smile so big you'll have to turn sideways to get out the door, strength and conditioning coaches who can help you achieve the body shape you have dreamed off, clinch technicians, boxing coaches and master tacticians who can help plot the downfall for any of your opponents.
We even have fully trained and qualified physiotherapists who can advise you on injury treatment and rehabilitation as well as offering incredible sports massages to relieve tired muscles.
All of the coaching team is available for personal training and for small private group training. For more information on personal training please see the one to coaching page, for prices please get in touch.